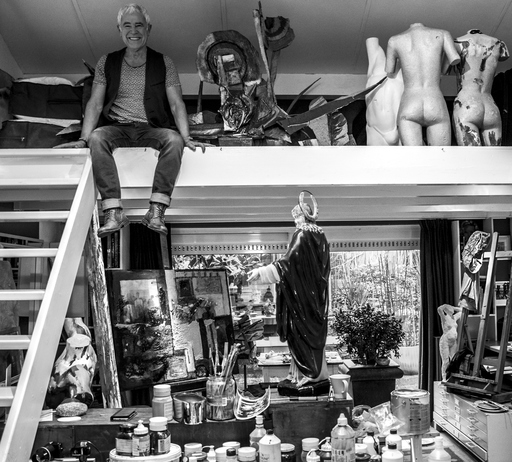 Over mijn w erk ,inspit
A lgemene gevoelens die betrekking hebben op de onderlinge relaties tussen mensen en mens en dier vormen de bron van inspiratie voor mij. Ontmoetingen, kennismakingen en het intensiveren van contacten met anderen zijn daarom van vitaal belang. Door deze ontmoetingen en het verdiepen in menselijke relaties kan ik schilderijen maken en me uitdrukken in een samenspel van bewuste en onbewuste beeldelementen.
About my work
General feelings concerning interhuman relations and relations between human persons and animals are the source of inspiration for Van Hemert's art. Encounters, acquaintances and the intensification of contacts with other people are of vital importance for his artistry. These encounters and his going into human relations enable him to create paintings and express himself in a dialogue of conscious and subconscious pictoral elements.
Uber meine Arbeit
Allgemeine Gefühle, die sich beziehen auf wechselseitige Beziehungen der Menschen und Tiere bilden die Quelle fur die Arbeit von mir.
Begegnungen, Bekanntschaften und dass Intensivieren der Kontakte mit anderen sind deshalb von entscheidender Bedeutung.fur meine Kunstlertum. Durch diese Begegnungen und das sich Vertiefen in die menschlichen Beziehungen kann ich Gemalde machen und mich ausdrucken in einem Zusammenspiels von bewussten und unbewussten Bildelementen.
More information about the Art of Integration-Art & Marketing:
http://about.me/henkvanhemertenzijnkunst
www.pinterest.com/henkvanhemert
https://www.facebook.com/pages/Henk-van-Hemert-en-zijn-kunst/495678300463672?ref=hl
www.artofvita.wix.com/henk-van-hemert
http://about.me/vanhemertpubliart
http://about.me/artisthenkvanhemert
http://www.facebook.com/pages/Henk-van-Hemert-en-zijn-kunst/495678300463672?ref=hl